Immune complex vasculitis after COVID-19 vaccination with BNT162b2
A 76-year-old Caucasian male with a history of compensated alcoholic liver cirrhosis, NYHA II heart failure, gastrectomy after gastroesophageal junction cancer and prostatectomy after prostate cancer and indwelling suprapubic catheter noticed lesions on hands and feet ~12 days after his second mRNA-based vaccination for COVID-19 with BNT162b2.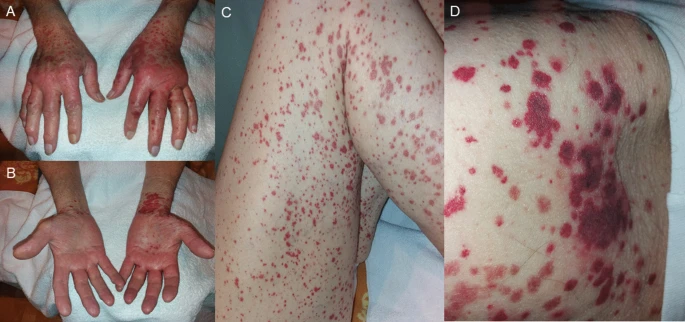 Physical examination in outpatient clinic revealed symmetric distal limb swelling, and a purpuric rash with palpable maculae on extensor and flexor parts of both hands, legs and thighs reaching up to the lower abdomen
. The patient denied symptoms of fever, dyspnea, arthralgia or anuria, but he reported of melaena and diarrhea the day before. The patient had no history of allergic predispositions or systemic autoimmune diseases. He denied having started any new medication recently or any changing in alimentary habits. A
fter his first vaccination with BNT162b2 6 weeks earlier, he had experienced significant vaccine related myalgia, fever (39.5 °C), hoarseness and fatigue, yet no skin related adverse events had occurred.
Laboratory findings revealed elevated blood sedimentations rate, interleukin-6 levels and C-reactive protein levels. In addition, signs of discrete hemolysis and elevated ammonium levels could be detected. Stool tests on occult blood was positive and stool calprotectin levels were moderately elevated. Virological tests on human herpes viruses and further human pathogenic viruses showed no new reactivation or infection.
The patient was started on 40 mg oral prednisolone once daily. Skin lesions were resolved on the fifth day of steroid therapy.
REFERENCE
Mücke VT, Knop V, Mücke MM, Ochsendorf F, Zeuzem S. First description of immune complex vasculitis after COVID-19 vaccination with BNT162b2: a case report. BMC Infectious Diseases. 2021 Dec;21(1):1-6.