Long COVID symptoms don't resolve due to subsequent vaccinations
A new study from Mount Sinai followed 453 COVID-19 patients with post-acute sequelae of COVID (PASC). 324 (72%) of them were vaccinated in the following 6 months. Unadjusted analyses did not show significant changes in anosmia, respiratory symptoms, depression, anxiety, PTSD, or quality of life (p > 0.05 for all comparisons) among vaccinated vs. unvaccinated patients. Similar results were found in propensity-adjusted comparisons and in secondary analyses based on the number of vaccine doses received.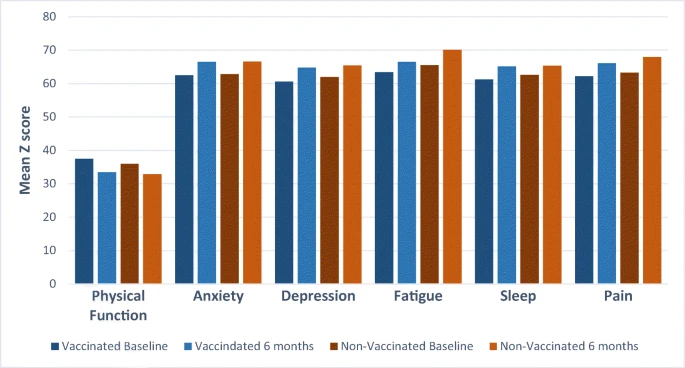 An older not-yet-peer-reviewed study found that those who were vaccinated before catching COVID had only a 13% lower risk than unvaccinated patients of having PASC symptoms (mostly lung-related) six months later

.

According to the lead author of this study, reliance on vaccination as a sole mitigation strategy is wholly inadequate.



Here are a few case reports about Long COVID in the vaccinated individuals.
CASE REPORTS
A previously healthy 47-year-old woman was evaluated for 7 months of PASC symptoms. She developed acute COVID-19 infection in the summer of 2021 and had received two doses of the BNT162b2 (Pfizer-BioNTech) vaccine 6 months prior to the onset of her infection. She tested negative for COVID-19 by antigen test but was started on a 5-day course of nirmatrelvir (300mg)-ritonavir (100mg) twice daily on day 3 of her acute symptoms by her primary care provider. Her acute flu-like symptoms had already begun to self-improve by day 3, but she noticed rapid improvement of her pre-existing PASC symptoms after taking the antivirals. This case report highlights the need to remain vigilant about PASC in vaccinated populations
A 48-year-old man with a past medical history of presumed Bechet's disease on colchicine developed fever, worsening headache, and pharyngitis in Spring 2022. He had previously received 2 doses of the Moderna SARS-CoV-2 vaccine and 1 dose of the Pfizer-BioNTech vaccine, most recently 5 months prior. A rapid antigen test was positive, as was a confirmatory PCR test. He was prescribed a 5-day course of nirmatrelvir/ritonavir, which he initiated within 24 hours of symptom onset, and experienced rapid improvement in his systemic symptoms. However, approximately four days following completion of the 5-day course, he experienced rebound symptoms with recurrence of fever, fatigue, rhinorrhea, cough, chest pain, rash on his upper and lower extremities, and trouble concentrating ("brain fog"). During this period, he wore a personal fitness device which recorded certain physiologic measurements including heart rate, respiratory rate, and change from baseline body temperature (Fig. 1). Approximately 3 weeks following the positive test and despite prior antiviral therapy, he experienced worsening of his fatigue and associated chest soreness, palpitations, brain fog, and symptoms of post-exertional malaise, which have now persisted beyond 30 days following initial symptom onset
A 43-year-old woman with no significant medical history developed cough and pharyngitis despite 3 doses of the Pfizer-BioNTech SARS-CoV-2 vaccine, most recently 4 months prior. Over the course of the subsequent 3 weeks, she began to experience worsening fatigue and malaise, with associated myalgia and trouble concentrating ("brain fog"). She received a prescription for nirmatrelvir/ritonavir, which she began 25 days following initial symptom onset. One day following completion of therapy, she experienced improvement in her fatigue symptoms. While she has residual shortness of breath and myalgias, she has now been able to re-engage with usual activities of daily living.
REFERENCES
Wisnivesky JP, Govindarajulu U, Bagiella E, Goswami R, Kale M, Campbell KN, Meliambro K, Chen Z, Aberg JA, Lin JJ. Association of vaccination with the persistence of post-COVID symptoms. Journal of general internal medicine. 2022 Mar 9:1-6.
Geng LN, Bonilla HF, Shafer RW, Miglis MG, Yang PC. Case Report of Breakthrough Long COVID and the Use of Nirmatrelvir-Ritonavir.
Peluso MJ, Anglin K, Durstenfeld MS, Martin JN, Kelly JD, Hsue PY, Henrich TJ, Deeks SG. Effect of oral nirmatrelvir on Long COVID symptoms: a case series.