Vogt-Koyanagi-Harada syndrome after COVID-19 Vaccine
Vogt-Koyanagi-Harada (VKH) syndrome is an autoimmune, multi-systemic disease which can occur due to viral infection or vaccination. It affects many body systems, including as the eyes, ears, skin, and the covering of the brain and spinal cord (the meninges). The most noticeable symptom is a rapid loss of vision.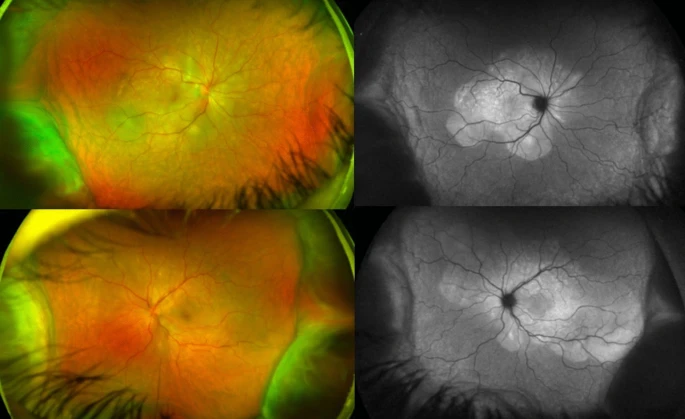 A 62-year-old healthy female patient developed a severe headache and tinnitus 2 days after receiving COVID-19 immunization with the Oxford-AstraZeneca Chimpanzee Adenovirus Vectored Vaccine ChAdOx1 nCoV-19 (AZD1222). Two days later she developed an acute loss of vision in both eyes. Fundus examination showed a serous retinal detachment and optic disc hyperemia OU (see Figure).
Four more cases that had a likely association between VKH disease and severe acute respiratory syndrome coronavirus 2 (SARS-CoV-2) vaccination were reported this week in "Ocular Immunology and Inflammation". Two patients had VKH symptoms within 1 and 2 weeks after receiving the ChAdOx1 nCoV-19 vaccine. One patient presented with VKH symptoms 5 days after receiving the BNT162b2 vaccine, and one patient had symptoms within 4 weeks after receiving the CoronaVac vaccine. Early diagnosis and treatment of VKH disease are essential for the visual prognosis of this aggressive disease. Further in-depth studies are necessary to investigate this likely association to enable ophthalmologists to identify new assumed correlations between the diseases described in this study.
REFERENCES
Saraceno JJ, Souza GM, dos Santos Finamor LP, Nascimento HM, Belfort R. Vogt-Koyanagi-Harada syndrome following COVID-19 and ChAdOx1 nCoV-19 (AZD1222) vaccine. International journal of retina and vitreous. 2021 Dec;7(1):1-7.
de Queiroz Tavares Ferreira F, Araújo DC, de Albuquerque LM, Bianchini PM, Holanda EC, Pugliesi A. Possible Association between Vogt-Koyanagi-Harada Disease and Coronavirus Disease Vaccine: A Report of Four Cases. Ocular Immunology and Inflammation. 2022 Aug 1:1-7. Ocul Immunol Inflamm . doi: 10.1080/09273948.2022.2093756.