Pediatric myocarditis after mRNA COVID-19 vaccination in Japan
A 12-year-old boy with unremarkable family and personal medical history presented with chest pain after the first dose of BNT162b2 vaccine. One day after vaccination, he developed fever and fatigue, followed by chest pain the next day. At presentation his heart rate was 82 beats/min. Laboratory tests revealed elevated troponin and NT-proBNP. The ECG showed ST elevation in leads I, II, and V3–6 (as shown in the Figure).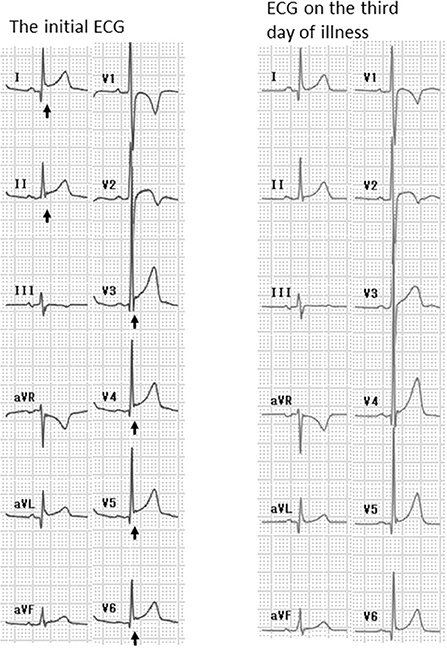 Echocardiography revealed a left ventricular ejection fraction of 68%, mild pericardial effusion, and increased epicardial echodensity. A diagnosis of myocarditis after mRNA COVID-19 vaccination was made, and the patient was treated with 30 mg/kg of aspirin and famotidine. On the next day, the chest pain improved, and the troponin I and NT-proBNP levels decreased to 820.4 and 74 pg/mL, respectively. On the fourth day of admission, the chest pain resolved, the troponin I level decreased to 355 pg/mL, ECG was normalized, and cardiac contrast-enhanced magnetic resonance imaging revealed no delayed excretion of contrast medium. The patient was discharged on the fifth day.
Four other male patients aged 12–16 years presented to the same hospital (Okazaki, Japan) with myocarditis within 2–3 days after the second dose of BNT162b2 COVID-19 vaccination between June 2021 and January 2022. All patients experienced chest pain, and fever, pain other than chest pain, and shortness of breath were present in two, three, and two patients, respectively. The serum troponin I level was increased in all patients except one. Electrocardiogram (ECG) showed ST elevation in all patients. Echocardiography revealed pericardial effusion and decreased ejection fraction.
We note that subclinical left ventricular dysfunction may also be a typical characteristic of COVID-19 infection in children.
The proportion of individuals with myocarditis that visited a hospital in Japan was estimated to be 0.022% - remarkably higher than previously reported. Our study showed that the number is much higher since many individuals never officially consulted a medical professional.
REFERENCE
Murase H, Zhu Y, Sakaida K, Mizuno H, Mori H, Iwayama H, Suzuki N, Nagai N, Okumura A. Case report: Five patients with myocarditis after mRNA COVID-19 vaccination. Frontiers in Pediatrics. 2022;10.