Pulmonary manifestations of vaccination
A previously healthy 46-year-old woman who never had COVID-19, developed pleuritic chest pain on the tenth day after receiving the third dose of BNT162b2 and was subsequently admitted to the emergency department.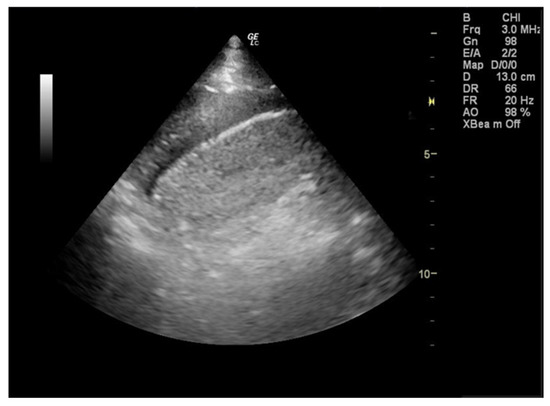 Physical examination of the chest revealed a unilateral pleural effusion (accumulation of fluid in the pleural space). During the focused lung ultrasound, a small left pleural effusion was detected by placing the transducer in the left posterior axillary line at the lower part of the chest (zone L3).
She was negative to influenza A, A/H1, A/H3, B; Adenovirus; coronavirus HKU1, NL63, 229E, OC43; parainfluenza virus types 1, 2, 3, 4; RSV; human rhinovirus/enterovirus; human metapneumovirus, Middle East respiratory syncytial coronavirus; SARS-CoV-2 as well as bacteria bordetella pertussis, bordetella parapertussis, Chlamydia pneumoniae, and Mycoplasma pneumoniae. She was also negative to antinuclear antibodies (ANA), anti-double-stranded DNA (anti-dsDNA), rheumatoid factor (RF), immunoglobulin G4 (IgG4), anti-cyclic citrullinated peptide (anti-CCP), and QuantiFERON. The varicella-zoster virus antibody immunoglobulin G (IgG) that were sent yielded positive results, whilst IgM antibodies were negative.
This case shows that COVID-19 vaccination may be associated with unilateral pleural effusion in healthy individuals without the concurrent diagnosis of myocarditis or pericarditis, nor any infection. An association between the vaccination and myocarditis or pericarditis with pleural effusion and exacerbation of COPD have been previously reported.
A 94-year-old man presented with acute onset, rapidly progressive dyspnea and fatigue that started on the second day after his first ChAdOx1 nCoV-19 vaccination. In the past, he lived independently managing his hypertension and hyperlipidemia with amlodipine and olmesartan regularly. Otherwise, he had no comorbidities such as heart failure, coronary artery disease, renal disease, cirrhosis, autoimmune disease, or malignancy. Upon arriving at the emergency department, the patient was hypotensive (99/51 mmHg) and oxygen desaturated (94%, under nasal cannula with 3-L of oxygen per minute). He was afebrile (35.5 degrees Celsius) and had a pulse rate of 61 beats per minute, and a respiratory rate of 22 breaths per minute. A physical examination revealed a distant heart sound and decreased breathing sounds over bilateral lower lung fields. Chest X-ray revealed the water bottle sign and bilateral costophrenic angle blunting while COVID-19 test was negative. Vaccine-induced polyserositis (pericarditis and pleurisy) was diagnosed. He had Bilateral Refractory Pleural Effusion.
Marked increase of interferon-β after BNT162b2 mRNA vaccination leading to polyarthritis with pleurisy was also reported for a woman in her 90s without a significant medical history and a man in his 70s with a history of myocardial and cerebral infarction but no history of arthritis.
REFERENCES
Athanasiou NK, Antonoglou A, Ioannou M, Jahaj E, Katsaounou P. Unilateral Pleural Effusion after Third Dose of BNT162b2 mRNA Vaccination: Case Report. J Pers Med. 2023 Feb 23;13(3):391. doi: 10.3390/jpm13030391. PMID: 36983574.
Li GY, Lee CC, Huang CC. Acute Polyserositis with Cardiac Tamponade and Bilateral Refractory Pleural Effusion after ChAdOx1 nCoV-19 Vaccination. Vaccines. 2022 Aug 10;10(8):1286.
Shimagami H, Yamaguchi Y, Kato Y, Kumanogoh A. Marked increase of interferon-β after BNT162b2 mRNA vaccination: a case of polyarthritis with pleurisy. BMJ Case Reports CP. 2022 Mar 1;15(3):e246533.