Myocarditis and Pericarditis following Covid-19 mRNA vaccines in French Population
In line with results from a cohort study in Nordic countries, analyses of data from France show a significant risk and population burden of pericarditis following the second dose of the BNT162b2 and mRNA-1273 vaccine (Note that cases after third dose have been also reported)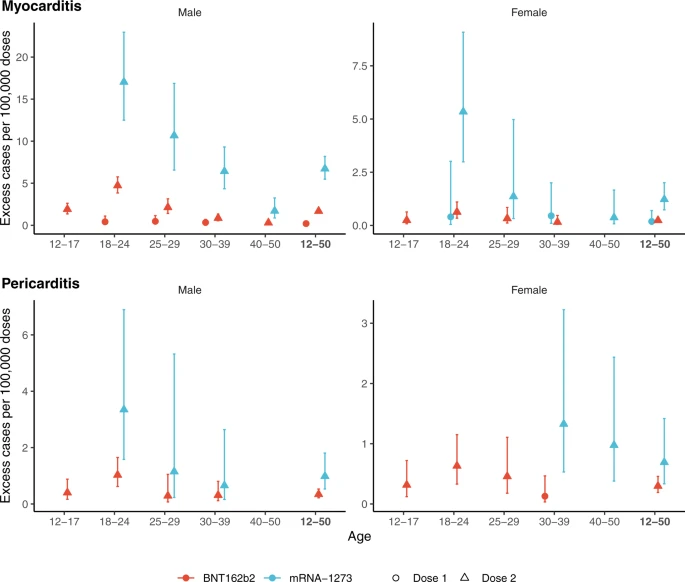 The study was based on data of the National Health Data System (SNDS) which covers more than 99% of the French population (67 million inhabitants)
.
1612 cases of myocarditis and 1613 cases of pericarditis occurred in France in the period from May 12, 2021 to October 31, 2021. The largest associations are observed for myocarditis following mRNA-1273 vaccination in persons aged 18 to 24 years. Estimates of excess cases attributable to vaccination also reveal a substantial burden of both myocarditis and pericarditis across other age groups and in both males and females.
REFERENCES
Le Vu, Stéphane; Bertrand, Marion; Jabagi, Marie-Joelle; Botton, Jérémie; Drouin, Jérôme; Baricault, Bérangère; Weill, Alain; Dray-Spira, Rosemary; Zureik, Mahmoud. 2022/06/25 Age and sex-specific risks of myocarditis and pericarditis following Covid-19 messenger RNA vaccines. Nature Communications, 2022, 3633, 13, 1 https://doi.org/10.1038/s41467-022-31401-5
EMA. Signal assessment report on Myocarditis, pericarditis with Tozinameran. https://www.ema.europa.eu/documents/prac-recommendation/signal-assessment-report-myocarditis-pericarditis-tozinameran-covid-19-mrna-vaccine_en.pdf (2021).